Books
Virgil Abloh: Figures of Speech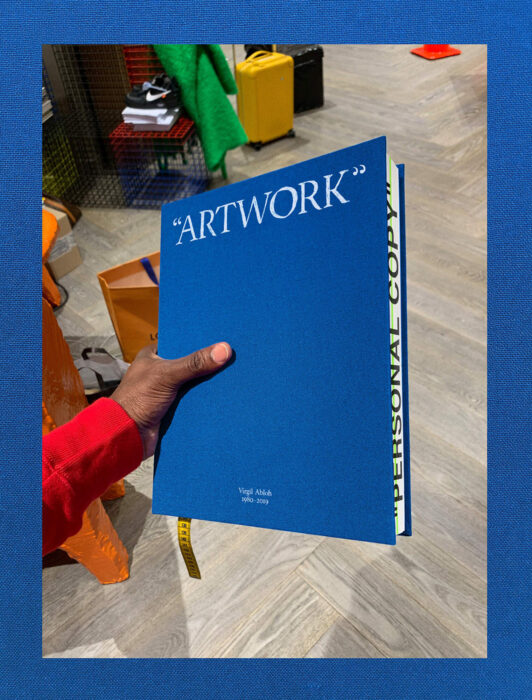 Museum of Contemporary Art Chicago (MCA)
Virgil Abloh: Figures of Speech
The essential volume on the great fashion designer, entrepreneur and Louis Vuitton artistic director, back in print.
Edited with text by Michael Darling. Foreword by Madeleine Grynsztejn. Text by Virgil Abloh, Samir Bantal, Anja Aronowsky Cronberg, Rem Koolhaas, Michael Rock, Taiye Selasi, Lou Stoppard, George Condo, Cali Thornhill Dewitt, Tremaine Emory, Kim Jones, Ben Kelly, Michèle Lamy, Heron Preston, Samuel Ross, Justin R. Saunders, Diane Solway, Amy Verner, Matthew Williams, Anna Wintour
Designed by OK-RM and Playlab, Inc
2020 AAM Museum Publications Design Competition, Second Prize
2019 AIGA 50 Books|50 Covers, winner
Published 2022 | ISBN: 9781636810744
This authoritative Virgil Abloh compendium, created by the designer himself, accompanies his acclaimed landmark 2019–23 touring exhibition and offers in-depth analysis of his career and his inspirations. More than a catalog, Figures of Speech is a 500-page user's manual to Abloh's genre-bending work in art, fashion and design.
The first section features essays and an interview that examine Abloh's oeuvre through the lenses of contemporary art history, architecture, streetwear, high fashion and race, to provide insight into a prolific and impactful career that cuts across mediums, connecting visual artists, musicians, graphic designers, fashion designers, major brands and architects. The book also contains a massive archive of images culled from Abloh's personal files on major projects, revealing behind-the-scenes snapshots, prototypes, inspirations and more—accompanied by intimate commentary from the artist. Finally, a gorgeous full-color plate section offers a detailed view of Abloh's work across disciplines.
Virgil Abloh (1980–2021) was a fashion designer and entrepreneur, and the artistic director of Louis Vuitton's men's wear collection from 2018 to 2021. He was also CEO of the Milan-based label Off-White, a fashion house he founded in 2013. Born in Rockford, Illinois, to Ghanaian parents, he entered the world of fashion with an internship at Fendi in 2009 alongside rapper Kanye West. The two began an artistic collaboration that would launch Abloh's career with the founding of Off-White. Time magazine named him one of the 100 most influential people in the world in 2018.