Books
Isaac Julien: Lessons of the Hour – Frederick Douglass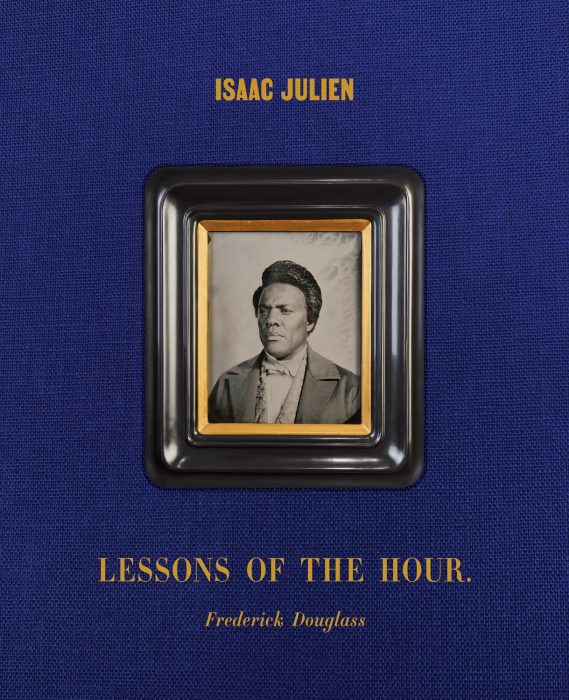 Isaac Julien Studio/MAG/The Frances Young Tang Teaching Museum and Art Gallery at Skidmore College
Isaac Julien: Lessons of the Hour – Frederick Douglass
A visual and literary meditation juxtaposing Isaac Julien's artworks with archival images of Frederick Douglass and essays that consider his enduring legacy.
Edited by Isaac Julien and Cora Gilroy-Ware with Vladimir Seput. Introduction by Cora Gilroy-Ware. Preface by Kenneth B. Morris, Jr. Text by John G. Hanhardt, Jonathan P. Binstock, Isaac Julien, Celeste-Marie Bernier, Deborah Willis, Henry Louis Gates, Jr., Paul Gilroy, Vron Ware, Susan Solt, Kass Banning and Warren Crichlow. Interview by Jennifer A. González
Designed by Content Object
2021 AIGA 50 Books|50 Covers, winner
2023 Kraszna-Krausz Book Award winner
Published 2022 | ISBN: 9781636810393
This sumptuously illustrated artist's book and reader documents Lessons of the Hour (2019), the ten-screen film installation and series of related photographic artworks by the internationally acclaimed artist Isaac Julien CBE RA (born 1960), which honor the public and private life of one the most important figures in US history: Frederick Douglass. The visionary African American orator, philosopher, intellectual and self-liberated freedom fighter was born into slavery in Maryland and went on to develop a remarkable aesthetic theory through his thinking and writing on abolitionism and Black self-representation through the apparatus of photography. Isaac Julien: Lessons of the Hour – Frederick Douglass takes the reader on a journey through Douglass' life and thinking, and is a vital consideration of his political and aesthetic legacy.