Books
Henry Taylor: B Side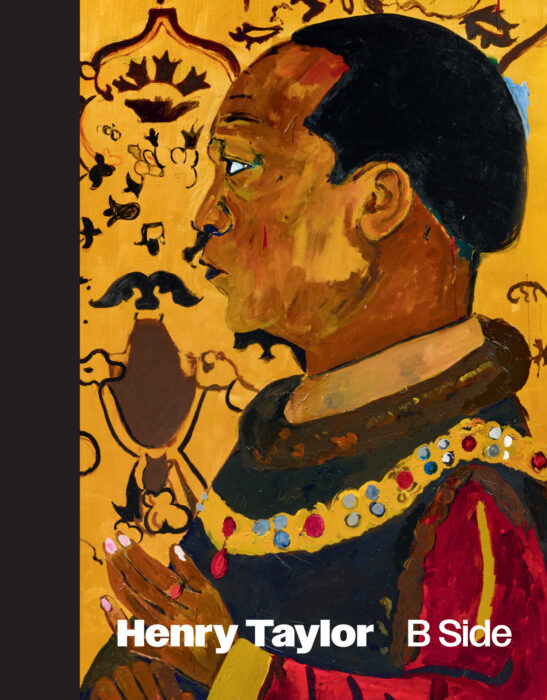 The Museum of Contemporary Art, Los Angeles (MOCA)
Henry Taylor: B Side
Painting on canvases, cereal boxes and cigarette packs, Taylor creates a grand pageant of contemporary Black life in America.
Edited by Bennett Simpson. Foreword by Johanna Burton. Text by Wanda Coleman, Karon Davis, Charles Gaines, Harmony Holiday, Bob Kaufman, Walter Price, Bennett Simpson, Frances Stark. Conversation with Henry Taylor and Hamza Walker
Designed by Polymode
Published 2022 | ISBN: 9781636810560
Surveying 30 years of Henry Taylor's work in painting, sculpture and installation, this comprehensive monograph celebrates a Los Angeles artist widely appreciated for his unique aesthetic, social vision and freewheeling experimentation. Taylor's portraits and allegorical tableaux—populated by friends, family members, strangers on the street, athletic stars and entertainers—display flashes of familiarity in their seemingly brash compositions, which nonetheless linger in the imagination with uncanny detail. In his paintings on cigarette packs, cereal boxes and other found supports, Taylor brings his primary medium into the realm of common culture. Similarly, the artist's installations often recode the forms and symbolisms of found materials (bleach bottles, push brooms) to play upon art historical tropes and modernism's appropriations of African or African American culture. Taken together, the various strands of Taylor's practice display a deep observation of Black life in America at the turn of the century, while also inviting a humanist fellowship that pushes outward from the particular.
Raised in Oxnard, California, Henry Taylor (born 1958) took art classes at Oxnard College in the 1980s and studied under James Jarvaise, who became a mentor. From 1984 through 1995 Henry Taylor worked as a psychiatric technician at Camarillo State Mental Hospital (a facility that is now California State University Channel Islands) while concurrently attending the California Institute of the Arts (CalArts) in Valencia, where he obtained his Bachelor's of Fine Art degree in 1995. Taylor has had institutional solo exhibitions at MoMA PS1 and the Studio Museum in Harlem. He lives and works in Los Angeles.