Books
Contemporary Muslim Fashions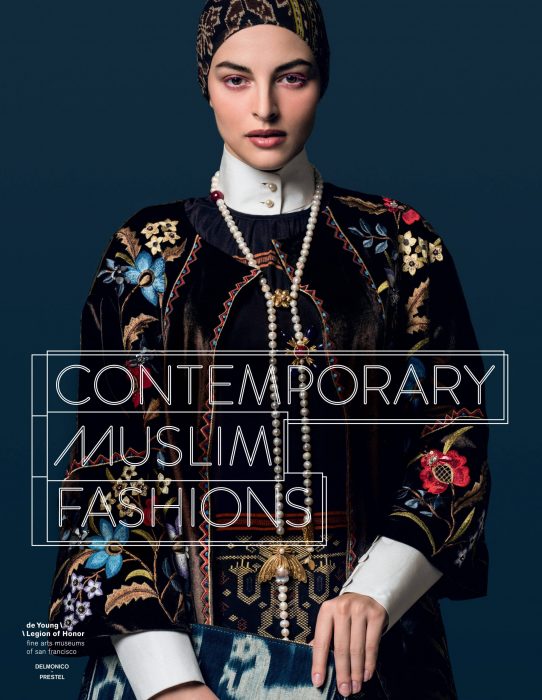 Fine Arts Museums of San Francisco (FAMSF)
Contemporary Muslim Fashions
This lavishly illustrated book presents Muslim fashion as an essential part of contemporary style.
By Jill d'Allesandro and Reina Lewis, with contributions by Alex Aubry, Shiva Balaghi, Laura L. Camerlengo, Carla Jones, Su'as Abdul Kabeer, and Deena Aljuhani Abdulaziz, and Remona Aly, Sariya Cheuvallil-Contractor, and Shelina Janmohamed
Designed by James Williams
Published 2018 | ISBN: 9783791357829
This dazzling exploration of contemporary Muslim modest dress, from historic styles to present-day examples, accompanies a major exhibition and reveals the enormous range of self-expression through fashion achieved by Muslim men and women. Filled with documentary and fashion photography as well as stills from runway shows and the media, this book explores the ways Muslim style cultures are shaped by global trends and religious beliefs. From high-end couture to streetwear, this volume shows how established and diaspora regions, such as Dubai, Jakarta, London, and New York, are homes to thriving industries that create classic and cutting-edge looks. Accompanying these images are essays and personal narratives by leading voices that touch on everything from the history of modest dress to social media. A fascinating examination of a major segment of the fashion industry, this book highlights the ingenuity and creativity of Muslim designers and wearers as they deftly navigate the fashion industry while maintaining their religious and cultural identities.