Books
Alison Elizabeth Taylor: The Sum of It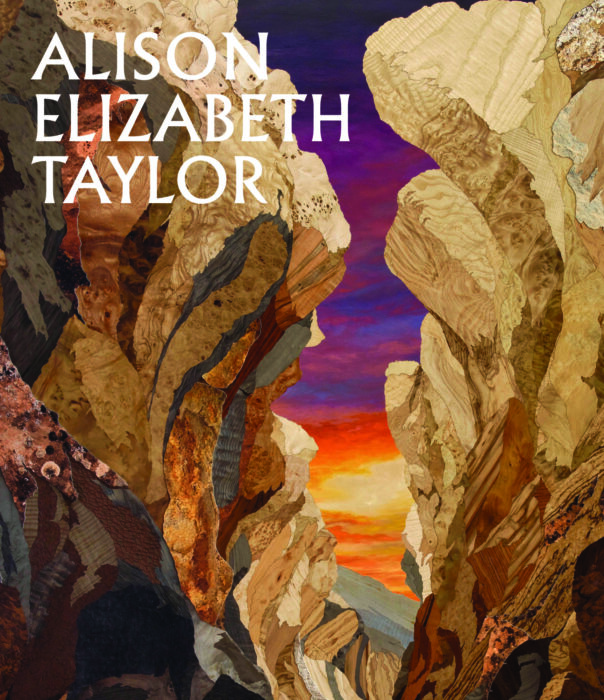 Addison Gallery of American Art, Phillips Academy
Alison Elizabeth Taylor: The Sum of It
The first book on Alison Elizabeth Taylor, known for her daring fusion of wood inlay technique with gritty, dystopian scenes of deserts, casinos and cocktail lounges.
Edited with text by Allison Kemmerer. Text by Naomi Fry, Lynne Tillman
Designed by Barbara Glauber, Heavy Meta
Published 2022 | ISBN: 9781636810546
Repudiating distinctions between craft and high art, and transcending both marquetry (wood inlay) and painting, the meticulously crafted works of Alison Elizabeth Taylor are as much about seeing as they are about making. Juxtaposing the over-the-top connotations of this ancient craft with dystopian images of blighted desert landscapes, anonymous subdivisions, glitzy casinos and seedy cocktail lounges, Taylor creates a tension between surface and subject, appearance and reality. The splendor of the shellacked wood invites us to consider the innate humanity of marginalized subjects we might otherwise overlook as well as the often-ignored impact of a boom and bust economy on American life and culture.
Featuring insightful essays by leading curators and writers, this fully illustrated publication traces the evolution of the artist's work from early paintings that explore space, line, color and form within the limited palette afforded by the grains and tones of natural woods to vividly colored "hybrids" that layer marquetry, paint and photographic imagery, to brand new and increasingly complex works inspired by the resilience of the artist's urban neighborhood and community during the pandemic.
Raised in Las Vegas, Nevada, Alison Elizabeth Taylor (born 1972) received her MFA from the Graduate School of the Arts, Columbia University in 2005. Her work has been exhibited widely throughout the world. In 2009, she received a Louis Comfort Tiffany Foundation Award and the Smithsonian's Artist Research Fellowship Program Award. Taylor lives and works in Brooklyn, NY.