Books
Agnès Varda: Director's Inspiration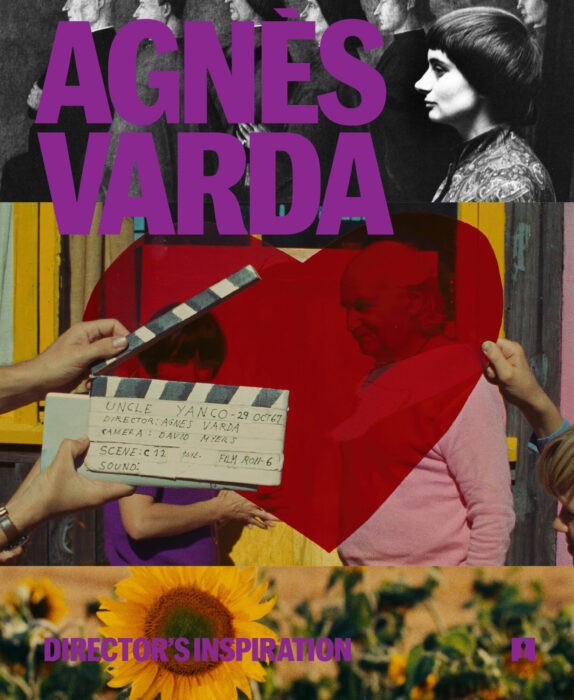 Academy Museum of Motion Pictures
Agnès Varda: Director's Inspiration
A visual tribute to Agnès Varda's three lives as a photographer, filmmaker and artist, with previously unseen archival materials, texts and personal reflections from Jane Birkin, Martin Scorsese, JR and more.
Edited with introduction by Matt Severson. Foreword by Jacqueline Stewart. Text by Sasha Archibald, Jane Birkin, Sandrine Bonnaire, Manohla Dargis, Peter Debruge, Mathieu Demy, Julia Fabry, JR, Lynne Littman, Didier Rouget, Martin Scorsese, Rosalie Varda, Viva, Chloé Zhao. Interview by Manouchka Kelly Labouba
Designed by IN-FO-CO (Adam Michaels and Marina Mills Kitchen)
Published 2023 | ISBN: 9781636810607
French filmmaker Agnès Varda was a trailblazer who broke new artistic and cinematic ground for nearly seven decades. Although closely associated with the French New Wave, Varda established her groundbreaking visual style in her 1955 debut film La Pointe Courte, well before other milestones such as François Truffaut's The 400 Blows and Jean-Luc Godard's Breathless. Varda impacted cinema from her first feature film through her final works, with an expansive oeuvre that includes Cleo from 5 to 7 (1962), Vagabond (1985) and the Academy Award–nominated Faces Places (2017).
Agnès Varda: Director's Inspiration presents the first English-language visual showcase for Varda's inspirations, art and personal life, incorporating original materials from her personal archive on rue Daguerre. The book covers Varda's "three lives"—as photographer, filmmaker and visual artist—and features a previously unpublished interview Varda gave to the Academy of Motion Picture Arts and Sciences on the eve of receiving her Honorary Oscar in 2017. Essays by author Sasha Archibald and film critic Peter Debruge examine facets of Varda's creative lives, and personal reflections by friends and colleagues illustrate what it was like to collaborate with and be inspired by Varda.
Agnès Varda (1928–2019) was a French filmmaker, photographer and visual artist, sometimes called the grandmother of the French New Wave. In 2018, her film with the French photographer and muralist known as JR, Faces Places, received an Academy Award nomination for Best Documentary Feature, and that same year she received an honorary Academy Award for lifetime achievement.